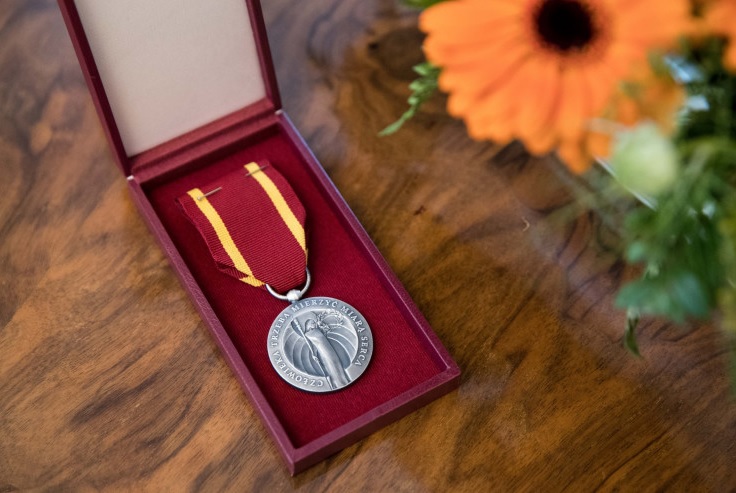 Late Esztergom Mayor Awarded Polish Medal For Saving Refugees During WW2
2021. június 02. 19:14 szerda
The ceremony was attended by Deputy Prime Minister Piotr Glinski, Minister of Culture and Heritage, and Zsuzsanna Orsolya Kovács, Hungarian Ambassador to Warsaw. Jenő Etter's award was received by his granddaughter, Hajnalka Hegyiné Etter.
The late mayor assisted the inhabitants of the Esztergom camp set up for Polish war refugees, first as the city's attorney general and then from 1941 as mayor. Through his contacts, he personally facilitated the escape of five thousand Poles to the West and the Middle East, where they joined the Polish armed forces organized there - reads the website of the Pilecki Institute.
After the German occupation in March 1944, Etter issued fake IDs to Poles and also protected Jews, officially protesting against the establishment of the Esztergom ghetto.
For his activities, the mayor was arrested by the Gestapo on March 19, 1944. He was rescued from deportation by a military summons issued through the intercession of his friends. He was captured by the Soviets on the Eastern Front, returned home in 1945, banned by the communist authorities from all civil service work. He worked as a doorman until his retirement, and died in 1973.
The awards for "heroic conduct" and "exceptional courage in the protection of human dignity" for foreigners helping Poles during the 20th century were presented for the second time at the initiative of the Witold Pilecki Institute for Research on Totalitarian Systems in Warsaw.
On Wednesday, a total of nine people from Czechia, Romania, Slovakia and Ukraine, in addition to Hungary, were awarded.
Witold Pilecki, the namesake of the Warsaw Institute, as the soldier of the Home Army, locked himself in the Nazi death camp in Auschwitz in September 1940 to organize the resistance there. He reported on Nazi crimes after his escape, but his report was not believed by Western allies. He also organized resistance during communism and was executed by the Polish state security in 1948.
Source: MTI